Rollshutter Graphics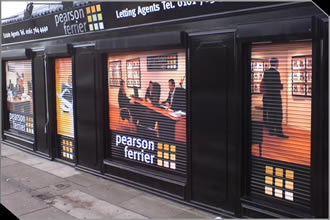 Harmony has partnered with Pinnacle Visual Signs Inc. to provide a unique opportunity to change the way everyone looks at roll shutters.
Imagine people being able to see your products even when your shop is closed. You can even put a Rolls Royce in your garage!
If you can think it up, we can do it. This concept isn't just for businesses. You can also dress up roll shutters to "soften" their look in a residential application.
Contact Harmony if you would like to make use of your unused retail space, selling even when the store is closed for business. We will be happy to work with you to see how to best implement this for your business or home.