Care & Maintenance
Maintaining your Awning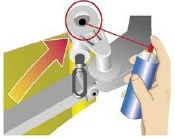 In principle, all mechanical parts do not need maintenance. Occasional lubrication of moving parts e.g. bearings or elbow connecter of folding arms with a suitable silicone spray can increase the longevity of the parts. All metal frame parts can be cleaned with a damp cloth and mild soap detergent. Do not use harsh cleaning solutions or solvents.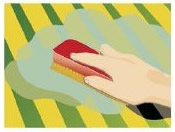 The awning fabric does not require special maintenance, thanks to rigid quality control measures. However, please note that wet fabric should not be rolled up for a long period of time. If the fabric is wet, roll it out and let it dry as soon as possible. Dirty fabrics can be cleaned with water, a mild detergent and a sponge or soft brush. Do not use harsh detergents to clean the fabric.
For more detailed fabric cleaning solutions, please visit Sunbrella's website at www.sunbrella.com
Guide to using your Awning
All HARMONY awnings and shade systems were developed for sun protection. Certain conditions require your immediate attention.
Wind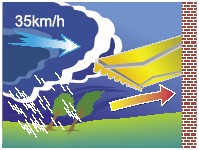 When wind conditions exceed 35 km/hr (either steady wind or gusts) the awning must be retracted to avoid damage. Awnings that are exposed to high wind locations require a wind sensor (motor required).
Rain
In light short term rain conditions the awning may remain extended provided it is set at a minimum 15º pitch. In periods of heavier rain the awning must be retracted to avoid water pooling in the fabric. When an awning has been retracted wet it should be extended as soon as possible to allow the fabric to thoroughly dry.
Winter
During winter months when snow, frost and ice can occur, retract the awning. Do not let snow, frost or ice accumulate on the awning, since it will void the warranty. Do not hang additional weights on the awning such as flower pots, clothing etc.
Manual Operation

If you have purchased an awning with manual operation, please ensure that for most efficient operation the crank operator should be in-line with the eyehook.
Electric Operation
A motorized operated awning consists of a tubular motor inside the awning axle. The control of the awning can be through a wall switch on the inside or outside of the house. Various switch options are available and the authorized HARMONY dealer will explain the function of your individual control.
If you have chosen a motor with a wireless receiver, you can operate the awning with a remote transmitter. During installation the settings for the awning extension and retraction will be set by the installer. Please contact the dealer if an adjustment needs to be made to the limits of the awning operation or check the SOMFY website for more details on your motors adjustability at www.somfy.com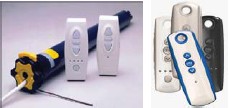 Adjustments & Service
Please contact your authorized HARMONY dealer if you have any questions or concerns about your HARMONY awning or shade product. Some of our awnings feature easy adjustments that can be done with an allen key. Your authorized dealer can explain, if and which adjustments you can do or if you need to contact the dealer for service.